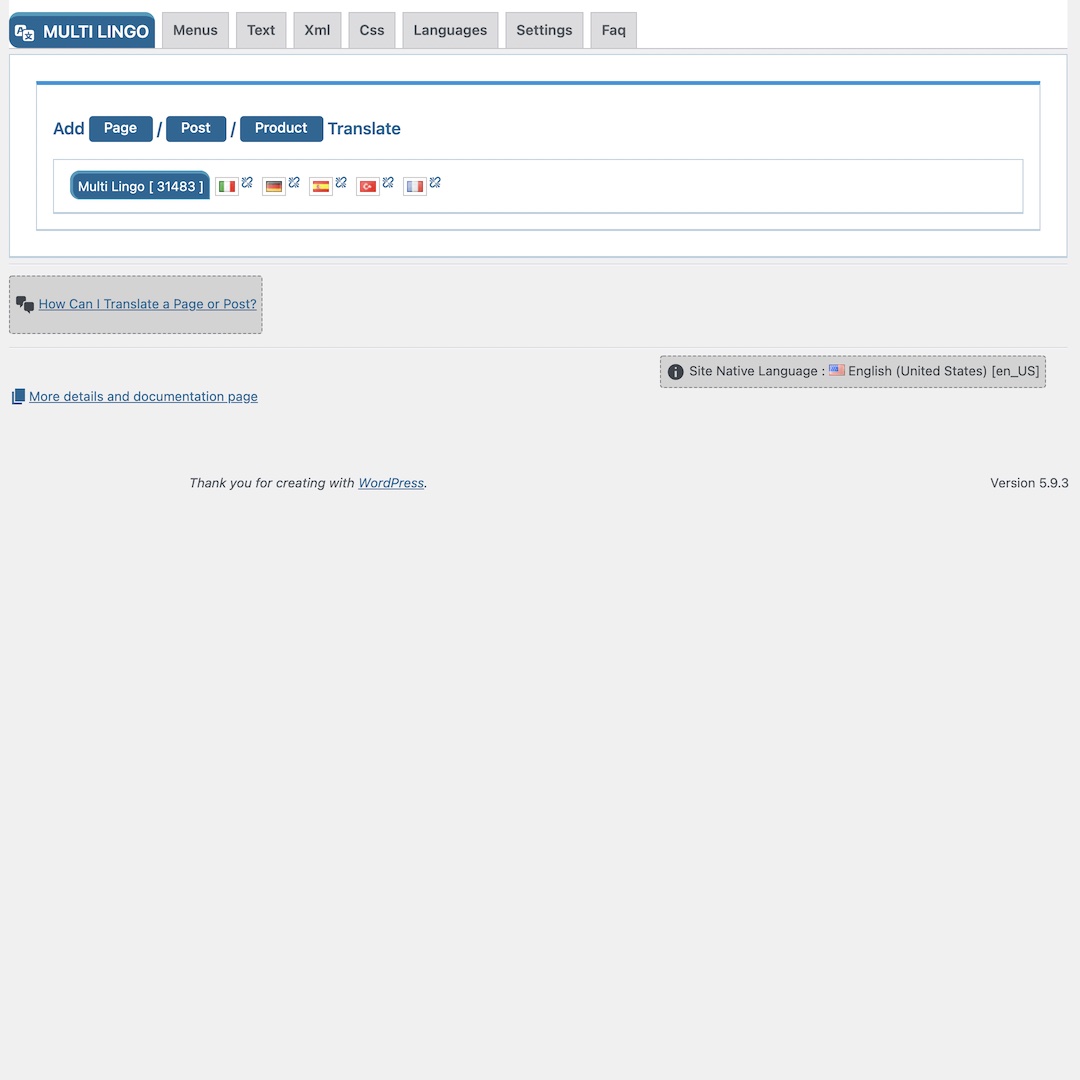 Translated page title and id
Translated language flag. Disconnect the icon between the original page and translated page
Site native language info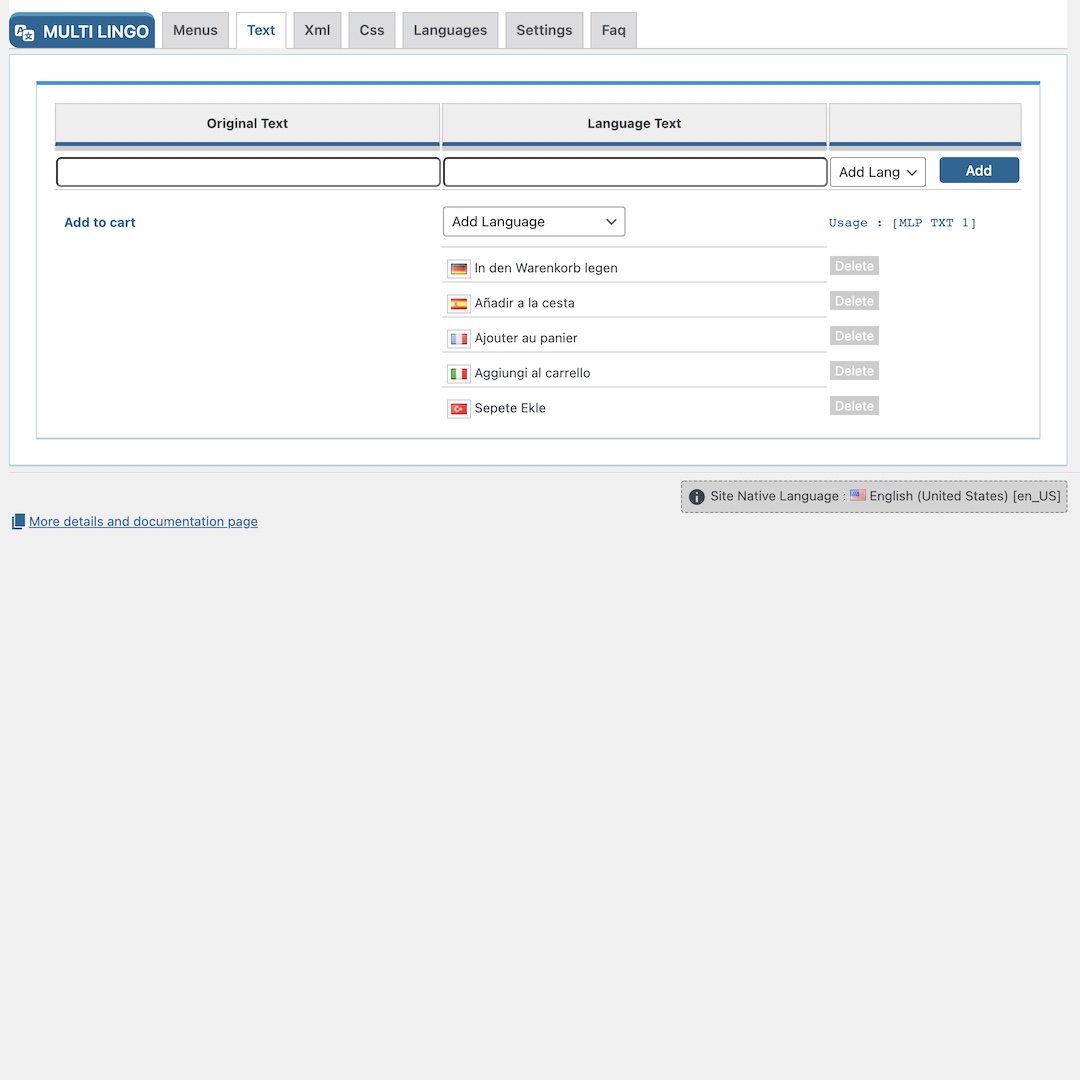 Add new language for this text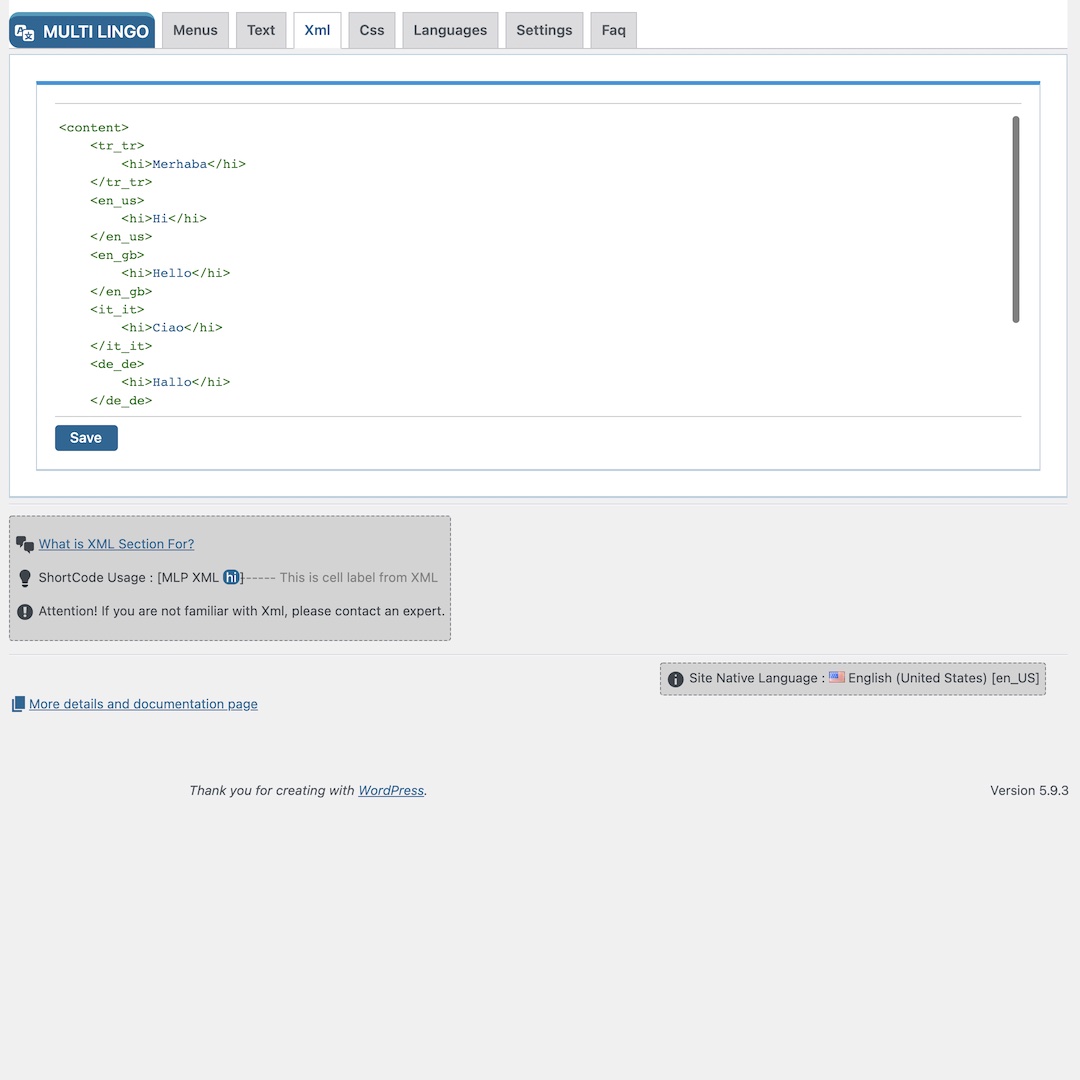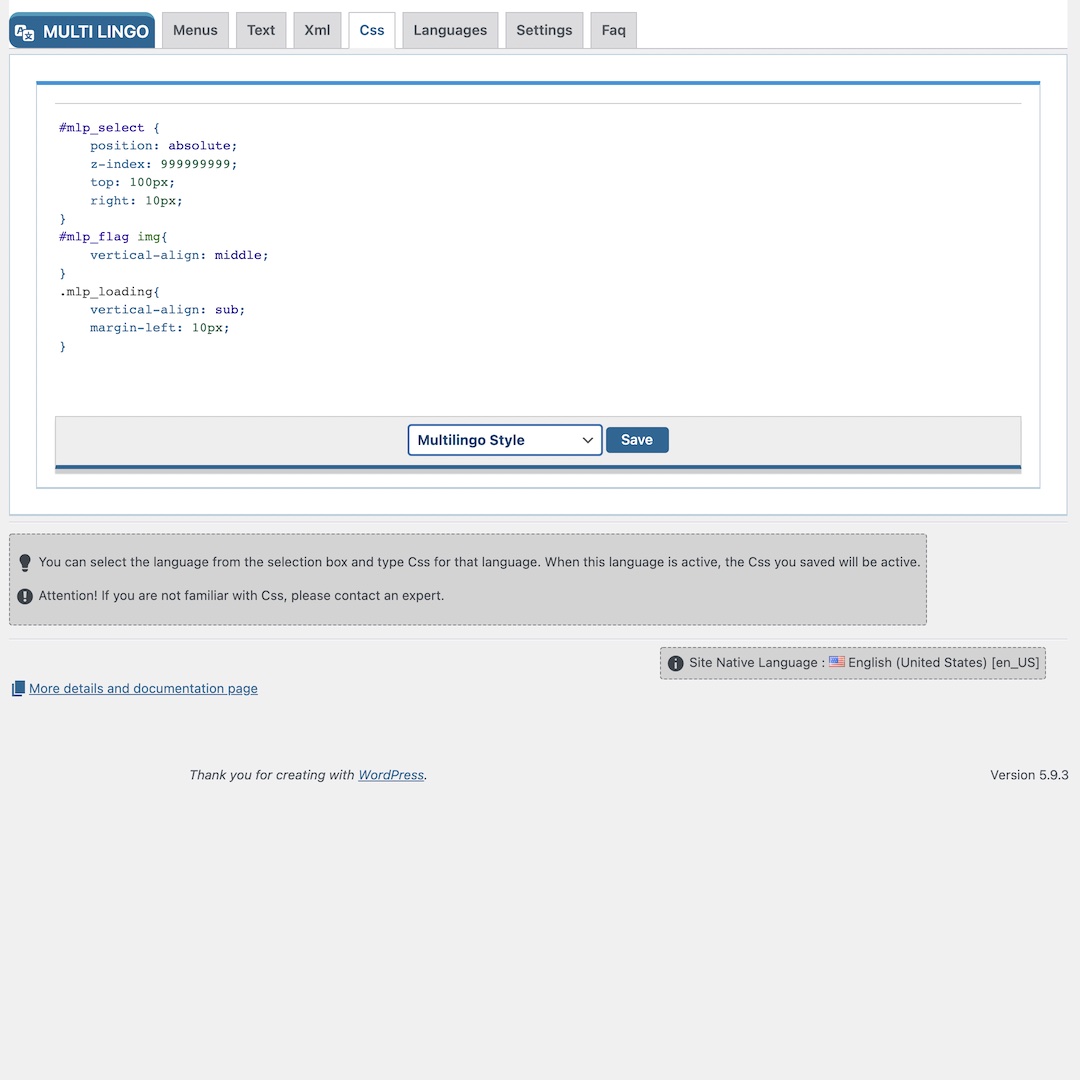 Plugin CSS file and language CSS files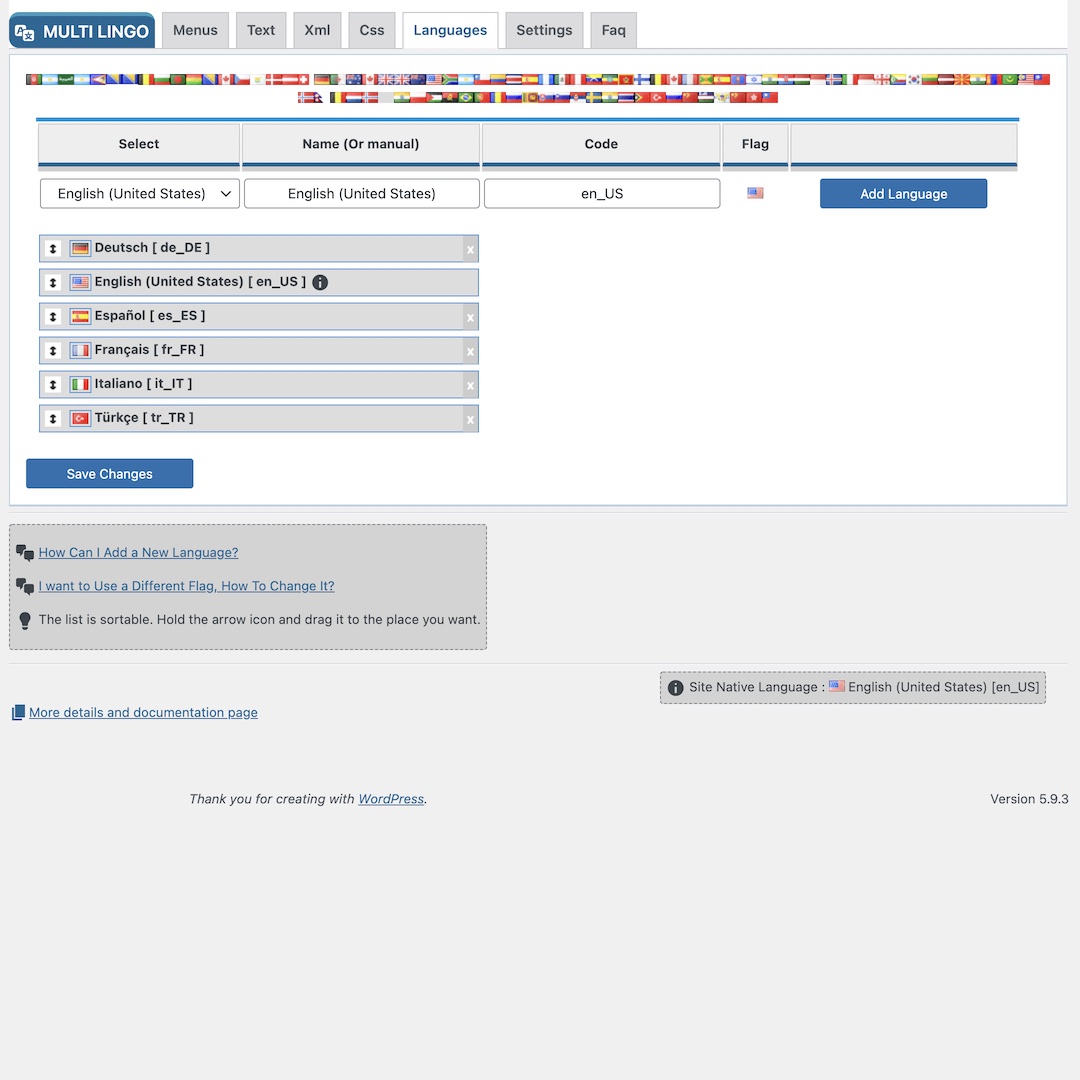 WP Multi Lingo clones pages/posts translate the menus and generate shortcodes for special translated texts.
Please select a language from the list for the page translation or click one of the flags.

Easily generate multilingual website
Wp Multi Lingo is an advanced translation plugin for WordPress. It translates your website frontend. It allows your visitors to navigate your website in their own language.
It clones pages/posts, translations the menus, generate shortcodes for special translate texts, can read translate text from xml. Shows you selected languages in the selectbox. Shows pages, posts, menus and texts for selected language.
You can add an unlimited number of translations. It is very easy to install and use. Can translate pages, posts, menus and texts. You can create short code specific for translations. You don't need to install new WordPress for each language. It is easy, fast and Seo friendly.
Unlimited Language
Supports unlimited language
Hide Menu
Hides the menu item according to language
ShortCode
Creates short code for translated text
ShortCode for XML
Creates shortcode for XML translations
Different Flags
Sets different flags for languages
CSS
Works with full CSS support
1.0.7
Compatibility : WordPress 6.0x
1.0.6
New : WooCommerce product support
Compatibility : WordPress 5.9x
1.0.5
Fix : Redirect issue under the cache process

Fix : Meta key issue for previously cloned pages
1.0.4
Fix : Redirect issue when cloning Page or Post
1.0.3
Fix: using different wp prefix

Compatibility: WordPress 5.4x
1.0.2
Fix: Deleted translated page issue

Added control for deleted translated page on admin panel
1.0.1
New : Admin bar quick link

Adds quick translate menu on the admin bar

Fix : Counting issue for text shortcode id

Update : Improved performance

Fix : Improved admin.css for WordPress 5.3x

Compatibility : WordPress 5.3x